No Password
February 13 at 11:30 at the Auditorium and Congress Hall in Castelló
No Password
This most recent production combines new contemporary musical creation with multimedia.
The result is a show where the music, video and lighting are integrated to form a unique experience.
No Password offers a reflection from the human being to its own current
environment, in which it is analyzed by Big Data and interacts with the
social networks and mass culture. At the same time, observe how
artificial intelligence evolves into a kind of autonomy.
ARTISTS
Javier Berbis, flute
Fernando Pascual, violin
Felicita Brusoni, vocal high soprano
Conxi Valero, vocal soprano
Roberto Zanata, multimedia and Live Electronics
Miguel Angel Berbis, multimedia and sound difussion
Original music by Roberto Zanata and Miguel Àngel Berbis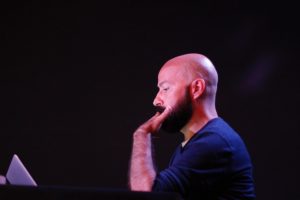 ROBERTO ZANATA
born in Cagliari, Italy, where he also graduated in Philosophy. A composer, musician and musicologist in electronic music, he studied and graduated in composition and electronic music at the Conservatory of Cagliari. He wrote chamber music, music for theatre, computer music, electroacoustic and acousmatic music as well as multimedia works. He teaches electronic music at the conservatory of Cesena.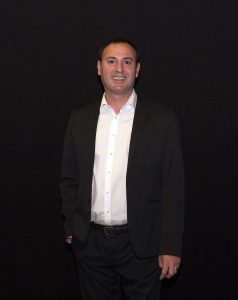 MIGUEL ÀNGEL BERBIS
His intense activity as a composer, teacher, researcher and artistic director frame his career. It has a catalog of works specialized in new technologies applied to contemporary music performed at international festivals such as the Carmelo Bernaola Festival in Vitoria-Gasteiz, the Opus concert series in Bordeaux, the Projecte Rafel Festival in Valencia, the International Meeting of Composers in the ACA Foundation of Palma, the contemporary music festival of Córdoba, the AMEE Festival (Association of Electroacoustic Music of Spain), the ME_MMIX festival (Electronic, Mixed Music and Video Projection Festival) of Palma, the Ensems festival, the Forum Wallis festival in Switzerland and CMMAS in Mexico among others.
As a researcher, he addresses the creative-performative process on the possibilities of computer-assisted composition creation, for which he obtains the DEA from the University of Valencia. He gives conferences to disseminate and promote interest in new technologies and teamwork between performer-creator. He has been the artistic director of the Ensemble d' Arts since its creation, as well as the promoter of the creation of the International Festival "Projecte Rafel Festival".
He is currently a professor of music technology at the Conservatory of Music of Castellón.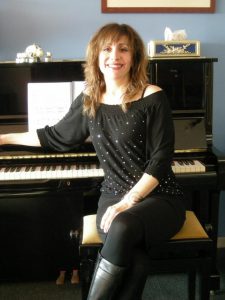 CONXI VALERO
Superior Degree in Vocal studies from the "Joaquín Rodrigo" Superior Conservatory of Valencia.
He is a founding member of Ensemble d'Arts, and has participated in 6 editions of the international Rafel Festival, in which he premiered works by Voro García, Miguel Farías, Carlos D. Perales, Sergio Blardony, Jesús Salvador Chapi and Miguel Ángel Berbis , as well as performing repertoire works such as Sequenza III by Luciano Berio and Lonh by Kaija Saariaho.
She has participated as a singer-actress in the Ensemble d'Arts productions "La Flor de Gaudafí", "Ausiàs March i el foll Amor", "Fantasia Canina" and "El Viatge de Nena", as well as in the production of the 'Valencia Institute of Culture "Happy End" by Bertolt Brecht with music by Kurt Wail, under the stage direction of Salva Bolta and the musical direction of Jesús Salvador Chapi and also "Tradition in the contemporary scene" premiered at the Ensems Festival.
He has also participated as a performer and soloist in other international festivals such as the Carmelo Bernaola Festival in Vitoria-Gasteiz and the Forum Wallis Festival in Switzerland.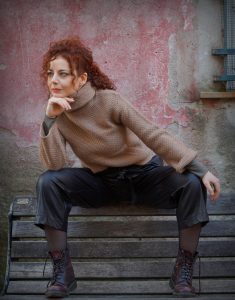 FELICITA BRUSONI
Felicita is a soprano, vocal performer, and PhD candidate in Artistic Research at Lund University. Her research concerns the extended vocal techniques for the contemporary repertoire, which she deals with for solo voice, with electronics, or other instruments. She also had experience with early and baroque music (she recorded Carissimi's Oratorios for the Bongiovanni label).
She is co-founder of Helmut Duo together with pianist Matteo Bogazzi, and she is part of vocal ensembles Fragmente and Voxnova Italia.
The opera and musical theater repertoire ranges from early 20th Century music (Britten, Menotti, Puccini) to contemporary one (premières of Abou Diab, Avramidou, Corpolongo, Dapelo, Wong, Viel).
She has sung premières written for her by Italian and foreign composers in national and international festivals and theaters, such as Biennale di Venezia, Darmstädter Ferienkurse, Festival Aperto Reggio Emilia, John Cage Orgel Foundation, Livorno Music Festival, Lund Contemporary, Musica Futura (L' Aquila), New Music Project San Marino, Ravenna Festival, Rondò by Divertimento Ensemble, Sound Spaces (Malmö), Spazio Musica (Cagliari), Stockhausen-Konzerte und -Kurse Kürten, Teatro of Piacenza, Teatro Ariosto (Reggio Emilia), Teatro Chiabrera (Savona).
She was awarded as "Best Singer Interpreter" at New Music Project San Marino 2018 and with the "Jury Prize" at the Festival Note tra i Calanchi (Bagnoregio) 2019.
After her studies at the Philharmonic Academy and a degree in DAMS at the University of Bologna, she obtained a Bachelor in Singing, a first-class Master in Vocal Chamber Music at the Conservatory of La Spezia, and a Second Level Master in Vocal Music and Contemporary Musical Theatre at the Conservatory of Ravenna.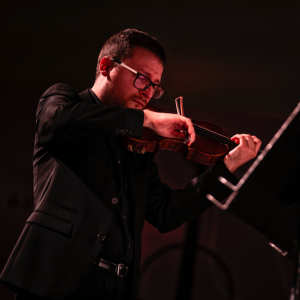 FERNANDO PASCUAL
Born in Valencia in 1988. He studied in Valencia and Madrid with M. Kovarik, A. Shestiglazov, S. Fatkulin and I. Malinovsky. As a soloist, she is first prize in the national competitions Ximén d'Urrea (L'Alcora) and Ruperto Chapí (Villena) and in the International Competition "Jugend Musiziert" 2004 (Villingen-Schwenningen, Germany). As a member of various chamber ensembles, she has won a First Prize in the IV Alzira Chamber Music Competition (2013) and a Second Prize and Best Performer Award in the XIII "Ecoparque de Trasmiera" Chamber Music Competition. He has been invited to perform at festivals such as the Santander International, the Morella International Music Festival, the Juan de Borbón Foundation Music Festival (Segovia) and the Torreblanca Summer Festival (Castellón). Between 2010 and 2017, he has worked regularly in the Orquestra de València and the Orquestra de la Comunitat Valenciana. He has a degree in German Philology from the University of Valencia, a Master's in Music from the Polytechnic University of Valencia and a PhD in Research in Humanities, Arts and Education from the University of Castilla-La Mancha. In 2018 he accessed the Corps of Music and Performing Arts Professors of the Junta de Andalucía by competitive examination, with the highest qualification of his promotion. He has taught at the higher conservatories of Malaga and Granada. Since 2021 he has held a violin chair at the "Salvador Seguí" Superior Conservatory in Castellón.
Publications:
• Garnier, J.-F., Six Duo Concertans pour Hautbois et Violon, Op. 7. Preface and critical edition. (Wegscheid: Kammermusikverlag, 2020)
• Schaffrath, C., Sei Duetti a Cembalo obligato e Violino o Flauto Traverso, Op. 1. Duetti I, III and V. Prologue and critical edition. (Wegscheid: Kammermusikverlag, 2020)
• Mattheson, J., The Perfect Kapellmeister. Preliminary study and critical translation. 2 vols. (Valencia: Edict Oràlia, 2021)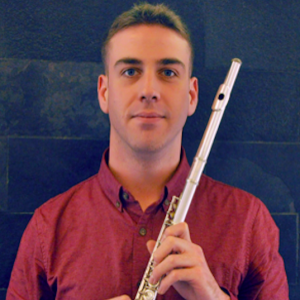 JAVIER BERBIS
He graduated in transverse flute in 2011 at the "Salvador Seguí" Superior Conservatory of Music in Castellón. He has a master's degree in music from the Polytechnic University of Valencia in 2017.
He highlights in his musical career his practice in chamber music and his commitment to contemporary creation and avant-garde music that have led him to premiere since 2008 a large number of works directed to the transverse flute by composers from different nationalities. He has collaborated in contemporary music groups and ensembles such as Art's XXI orNomos Grup at the Palau de la Música, in València, and also in classrooms and masterclasses of contemporary and electroacoustic composition. He has participated in various editions of VIPA's Festival premiering chamber music and solo works. He has performed classical repertoire flute concertos. He has been a chamber music teacher since 2016 and a transverse flute teacher at the "Manuel Massotti Littel" Superior Conservatory of Music in Murcia in 2018-2019. He is currently a professor in the orchestra and chamber music department of the "Salvador Segui" Higher Conservatory of Music in Castelló. He combines teaching activity with research practice. He is also a solo flute of the Ensemble d'Ensemble d'Arts since its creation in 2012, dedicating himself to the premiere of works framed in a current language, as well as the fusion of different artistic disciplines and technologies for the arts.
COL·LABORADORS | COLABORADORES | PARTNERS