MY PLANET
February 14 at 11:00 at the Castelló Auditorium and Congress Center
VASKO VASSILEV
&
MIGUEL ÁNGEL NAVARRO
NOSOLOCLASICA ORCHESTRA
SYNOPSIS
Once again the NOSOLOCLASICA orchestra
offers us a different, participatory and unexpected concert.
Together with the famous violinist Vasko Vassilev and the conductor Miguel A. Navarro,
through the music of Gustav Holst
we will get to know this new production that presents us with the musical
and anthropological essence of some of the most important planets in our universe.
A unique language, a current sound, cosmic and interplanetary
sound effects as well as a claim for our planet and human values that will transport us
on a musical journey through the universe and its planets.
A concert full of surprises that will not leave anyone indifferent.
CONCERT PROGRAM
"Mars, the bearer of war"
"Venus, the bearer of peace"
"Mercury, the winged messenger"
"Jupiter, the bringer of joy"
"Saturn, the bearer of old age"
"Uranus, the magician"
Violin: Vasko Vassilev
Conductor: Miguel A. Navarro
Orchestra Nosoloclasica of CSMC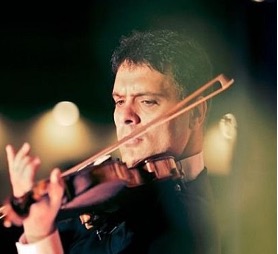 VASKO VASSILEV
He was born in Sofia in 1970. He studied at the Moscow Conservatory and also in London. He has won the main prizes of the "N. Paganini" (Genoa), "Carl Flesch" (London) and "Jacques Thibaud" (Paris) international competitions.
At the age of 21, Vasko Vassilev began to perform concert tours in Europe and Asia, participating in international festivals such as "Schleswig Holstein Festival", "Bang and Olufsen Music Festival", "Kenwood Festival", etc. He frequently collaborates with the Hallé and Bournemouth orchestras and is one of the violinists most requested as a "concertino guest" by orchestras of the London Philharmonic, London Symphony, Opera de Lyon, etc.
Since 1991, Vasko Vassilev has been principal concertino of the Orchestra of the Royal Opera House in Covent Garden, London, a fact that made him the youngest concertino in the entire history of that orchestra. In 1998 Vasko Vassilev performed as a soloist in the Royal Opera House Orchestra's European tour, performing Tchaikovsky's violin concerto, receiving extraordinary reviews. On this tour, it is worth noting his excellent concert at the Auditorio Nacional in Madrid. As a soloist and chamber musician he has recorded records for the labels Trittico Clasics, Harmonia Mundi and Erato.
His discography includes, among other works, the Sonatas for violin and piano by Brahms and the first recording of John Adams' violin concerto. Vasko Vassilev is the founder and concertmaster of the "Laureate" string orchestra, made up entirely of musicians who have won prizes in the most prestigious international competitions and with which he has achieved a platinum record for the recording "Original Four Seasons" with Vanesa Mae. He has been director of the National Radio Orchestra of Bulgaria and Creative Producer of the Royal Opera House. Vasko Vassilev plays on an Amati violin from the year 1705.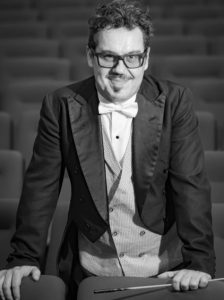 MIGUEL ÁNGEL NAVARRO
Principal musician of the Orchestra Ciutat de Barcelona and Nacional de Catalunya and the Symphony Orchestra of the Principality of Asturias, he has been invited as first trumpet to the orchestras Camerata de Florencia, Virtuosos de Moscú, Orquesta de Hilbroun (Germany), Jeunesses Musicals World Orchestra , Chamber Orchestra of the European Community, and also in orchestras such as those of Cadaqués or the RTVE Orchestra.
First Prize in the National Music Youth Competition for wind metal, has taught Chamber Music courses in important institutions such as the Royal School of Music in London, University of Szcezin (Poland), University of Corfu (Greece), Conservatorio Aristoteles of Thessalonika , University of Macedonia. He has been a professor of Orchestral Repertoire in the postgraduate course in Analysis and Orchestral Repertoire at the University of Oviedo. and also professor of the Master's in Pedagogy and Research at the Jaume I University of Castellón.
He has participated in the recording of more than 30 albums with artists such as Luciano Pavarotti, Alfredo Kraus, Plácido Domingo, Ainoa Arteta, Witold Lutovslawsky, Frübeck de Burgos, Charles Duttoit, Marta Argerich, Sumi Jo or Jessy Norman, also in several musical film productions and theatrical with directors such as Jose Luis Garci, Emilio Sagi or Llorens Barber.
His versatility as a musician and director allows him to introduce and produce, without ever abandoning classical music, different projects related to Jazz, Rock, Symphonic Pop, Rock Opera, Cinema, Rap or Heavy Metal, having thus collaborated with artists such as ( Nach, Jose Luis Garci, Llorens Barber, Keito Saito, Da Endorphine, Pam Nicholson, Vasko Vassilev, Warcry, David Pastor, Mailers, etc.
He has conducted different orchestras such as the Oviedo Philharmonic Orchestra, Thessalonika Philharmonic Orchestra (Greece), ADDA Symphony Orchestra, Yucatan Symphony Orchestra (Mexico), National Radiotelevisión Orchestra of Greece, The Baltic Neopolis Orchestra (Poland), Kalisz Philharmonic Orchestra ( Poland) or The London Covent Garden Soloist (United Kingdom), with whom he has made several recordings and concerts in Spain, Bulgaria, Germany, Singapore, the United Kingdom, Vietnam, Mexico, Argentina, Canada, Greece, Poland, the Philippines, Malaysia and Thailand.
Miguel Ángel Navarro holds a doctorate cum laude in History and Music Sciences from the University of Oviedo and a member of the Board of Directors of the Instituto Superior de Enseñanzas Artísticas de la Comunidad Valenciana. He is currently a professor at the Superior Conservatory of Castellón.
The Nosoloclasica orchestra is an orchestra born within the "Salvador seguí" Superior Conservatory of Music in Castellón under the direction of Miguel A. Navarro. Formed by CSMC students in the subject of Nosoloclassical Recording Orchestra, it is dedicated, collaborating with prestigious artists, to the development and recording of projects of different styles unrelated to classical music such as jazz, pop, heavy, cinema, opera, rock, folk, etc, with the aim of complementing and expanding the training in styles of CSMC students, as well as facilitating these students' access to working life.
Born in 2016, it has participated in different projects and major festivals such as Legends of Rock, Jazz Symphonic Sketches, Cinema Concertos or Warcry Symphonic together with large groups and regularly collaborating with artists such as Warcry, Duccio Bertini, George Lazaridis. Keito Saito, David Pastor, Pamela Tan Nicholson or Vasko Vassilev.
COL·LABORADORS | COLABORADORES | PARTNERS