Ónix: Lumínico
February 13 at 18:30 in the Castelló Auditorium and Congress Hall
MAQUIN-ARIAS
for flute,
multichannel electroacoustics and video
MAQUIN-ARIAS offers a unique vision of contemporary reality and the life of the human being related to machines,
its paradoxes and contradictions through sound and visual metaphors that immersively immerse the viewer in a unique artistic experience: Consciousness, perception, intuition and rationality, everything which is emotionally linked in an introspective and personal show, unique for each
spectator, which is built through high-level live performance and new sounds on the flute, in addition to the use of advanced audio and video technologies
using images and sounds of machines and other realities derived from them. The repertoire comes from many sound and video
sources that make up a large visual corpus, which interacts with electronic and electroacoustic music, with live improvisation,
contemporary concert music, classical music and other world music, all in delayed format. and in real time. Each concert integrates fragments of these pieces and sounds, intertwining them live as if it were a soundtrack, so Maquin-Arias avoids the conventional list
of works and composers, to give way to a new format: It is a project that proposes original, innovative,
purposeful and integrating scenic and sound forms, in accordance with the complexity and diversity typical of audiences in contemporary society.
The project is part of ÓNIX Ensamble, and has been the winner of the MEXICO EN ESCENA national performing arts award
through the National Fund for Culture and the Arts.
He has performed in multiple concerts in Mexico, Latin America, the United States, Canada, various Asian countries and in Europe with great success.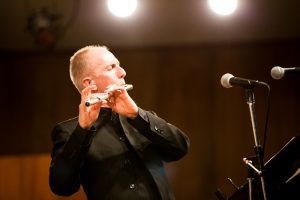 ALEJANDRO ESCUER
www.alejandroescuer.com
Alejandro Escuer is a Mexican flutist, composer and multidisciplinary artist dedicated to the interpretation, creation and promotion of artistic projects of great quality and musical originality. His versatility allows him to perform with an orchestra or with any other instrumental combination. Robert Rowe, composer and director of the music and technology program at New York University comments: …for me Alejandro is the best flutist in contemporary music today. Complimentary comments like this come from artists and publications like The New York Times, TIME Magazine, American Record Guide, New Music Cnnosseur, Karlheinz Stockhausen, Robert Dick among others. Among the awards and recognitions that Alejandro Escuer has received, the following stand out: Rockefeller FONCA-BANCOMER on two occasions, Fulbright García Robles Scholarship for postdoctoral stay, National Association of Latino Arts and Culture Grant Award 2012, Prize and arts scholarship granted by the National Autonomous University from Mexico; first prize for interpretation from the National Institute of Fine Arts; honorary designation by the magazine Líderes de México 1999; multiple recognitions and awards from the National Fund for Culture and the Arts of Mexico including Interpreters with a Trajectory, among many others. Escuer has recorded five flute albums as a soloist: Jade Nocturno, Aqua, Aire Desnudo Folklore Imaginario and Flying, as well as five more albums with ONIX Ensemble: Laberintos, Cinco, Planos, El Tiempo, Visiones and others on the way. He studied at the National Conservatory of Music, at the Sweelinck Conservatorium Amsterdam (MA) and at New York University (Ph.D.). Major teachers of his include Severino Gazelloni, Robert Dick, Koos Verheul, Mario Salinas, Marielena Arizpe, Keith Underwood, and Brenda Sakofsky. Alejandro Escuer is also a leader of multidisciplinary initiatives (where he incorporates his extra-musical skills in photography, painting, design and disciplinary interconnections in the form of installations) in search of the arts achieving benefits of a social and community nature. Fundador de projectes com www.onixensamble.com el 1995 i www.luminico.org el 2000, des del 2013 també s'exerceix com a director artístic del Festival Internacional de Música de Cambra de San Miguel d'Allende.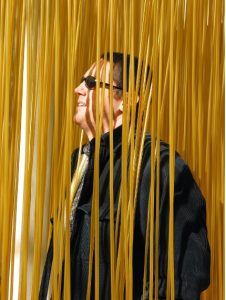 RODRIGO SIGAL
www.rodrigosigal.com
Jorge Rodrigo Sigal Sefchovich
(Mexico City – 1971). He is a composer and cultural manager, as well as a full-time professor at the National School of Higher Studies, Morelia of the National Autonomous University of Mexico, where he co-founded the Degree in Music and Artistic Technology (www.enesmorelia. org). He is interested in working with new technologies, especially in the field of electroacoustic music. Since 2006 he is the director of the Mexican Center for Music and Sound Arts (www.cmmas.org) from where he coordinates various initiatives of creation, education, research and cultural management related to sound and music. He obtained a PhD from the City University of London and a post-doc from UNAM, as well as a diploma in cultural management from the UAM-BID and has continued his studies and creative projects with various grants and support from institutions such as FONCA (member of SNCA 2011- 18), Pride C (UNAM) and the DeVos Foundation for cultural management, among others. He is a member of the National System of Researchers of the Conacyt level 1 and for more than 20 years he has been part of the Lumínico project (www.luminico.org), director of the Visiones Sonoras festival (www.visionessonoras.org) and editor of the magazine Ideas Sónicas (www.sonicideas.org).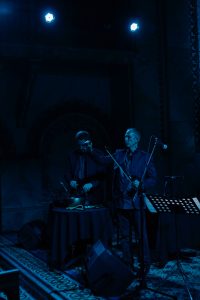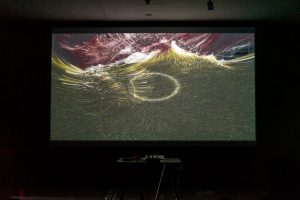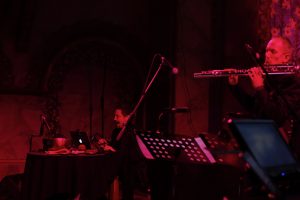 COL·LABORADORS | COLABORADORES | PARTNERS